I have decided to start doing my weekly curriculum post at the end of the week instead of at the beginning of the week, so that I can add pictures of some of our activities. I should have been doing this from the start. I will also include where I find these activities and link it to that website.
Our
pumpkin popsicle puzzle
I found at
Child Care Land.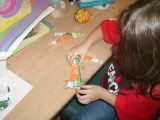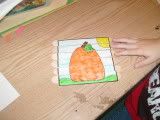 Fall Leave
puzzle from
education.com
Frog Math
from
Child Care Land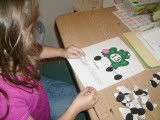 Fall Leaves Number Game
- Helps to recognize and learn double digit numbers. For instruction view my earlier post
http://notsoperfectmombuttrying.blogspot.com/2010/10/our-kindergarten-week_25.html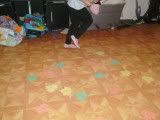 Play School
I have decided to start taking pictures of what Crazy Man does while Diva Queen is doing her schooling. I try to involve him in what his sister does, like her letters that certain week, but he has no interest for school right now so I don't push it. He sometimes will do her coloring pages with her, but he's not big on coloring either. So I try and find fun things to occupy him with so he is learning but not knowing it LOL! He is very smart for his age. Well I think so anyways. He is 2 1/2 and he knows all of his letters by sight, even out of order. He can count to 10 and knows some shapes and colors. We are working on the last two now. He knows many animals and their sounds. His vocabulary is far more advanced than many his age, although he doesn't show it to everyone, and he has a VERY good memory. He remembers things he has seen or heard only once.
So for now, his play is his school, and maybe next year he will sit still enough for a little more structured learning. If not, no big, there is no rush. (No promises on many pictures, because he rarely sits still for long!)
Crazy Man loves his cookie jar shape sorter. He's says the shape and then puts it in the correct hole and sings to the music.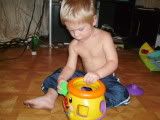 He tries so hard to build like big brother!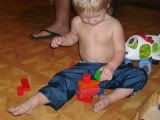 So far the flannel board I made is a big with the kids, especially with Crazy Man!! This one is of 5 Green and Speckled Frogs. The kids love this rhyme. I found the printable at
Child Care Land
.