Sooo you'd think that having three children that I would be able to time manage fairly well. Throw another kid in there, and no big deal right? WRONG!! The past two weeks I can't seem to remember anything. Diva Queen has Speech and Occupational Therapy twice a week to help with kindergarten readiness, and I completely forgot that today was even Monday!! Thank God my husband thought of it, of course he didn'/t remember until the time we were suppose to be leaving. So it was a MAJOR rush trying to get the kids dressed (still in pj's at 12:30 bad mommy) and out the door. The kids had to eat ham sandwiches on the way since we didn't have lunch yet. I think "Mommy brain" only gets worse with each consecutive kid. So does anyone else out there have a bad case of "Mommy brain"?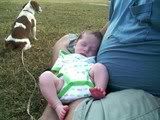 I received two blog awards today!!! Thank you sooo much to Liz at
From Chalkboards to Strollers
. Liz has a super cute blog that everyone should check out!!
Rules for accepting:
1. Thank and link back to the person who gave you the award
2. Share 7 things about yourself
3. Pass this on to 13 other great bloggers
4. Contact the selected bloggers and tell them about their awards
So here are seven things about me:
1. I am a young mother of 25 with 4 children. Three are biological, but my daughter is just as much mine as
my boys! My husband has full custody.
2. I love to digital scrapbook!!! Although I don't have much time for it.
3. I love to read, like everything!! From horror to Christian Fiction.
4. I am new to Homeschooling. I homeschool my daughter in kindergarten. So far I love it!!! I hope she
decides to keep too it, but I told her it's her choice to continue for 1st grade. I love flexible it can be and
how much better she seems to learn. She did good in Preschool, but they said she would probably be held
back in Kindergarten. She does so much better with one on one, and I am able to make things more fun
than her.
5. I just had my 4th child 17 day's ago!!!! We are enjoying every minute of him!!!
6. I love coupons!!!! And any other way to save money. Love bargain hunting!!!
7. I love to cook, and am always looking for new recipes!!
I know I am suppose to pass this on to 13 more blogs, and I promise I will, but tonight I am pressed for time. So I promise to make another post on it tomorrow.